E-Liquid Market Size Worth $ 3.4 Billion Globally and the CAGR will reach 12.6% by 2028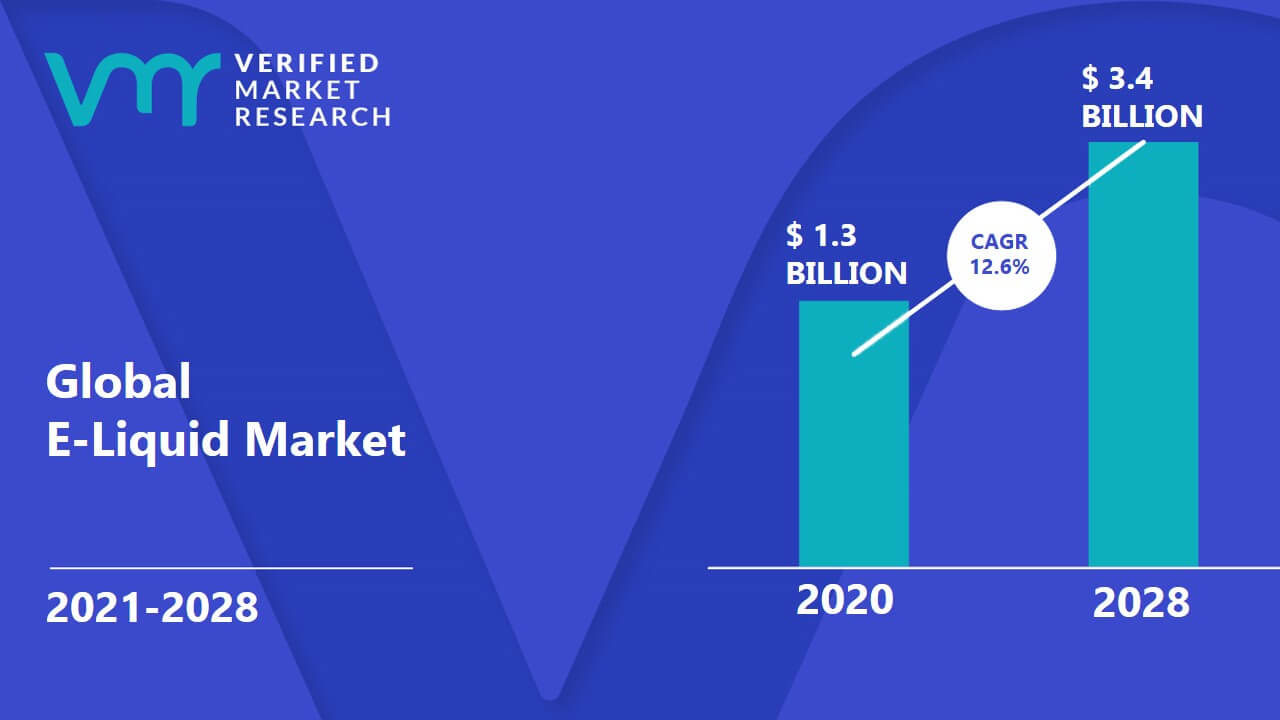 E-Liquid Market Size Worth $ 3.4 Billion Globally and the CAGR will reach 12.6% by 2028
Source :
Verified Market Research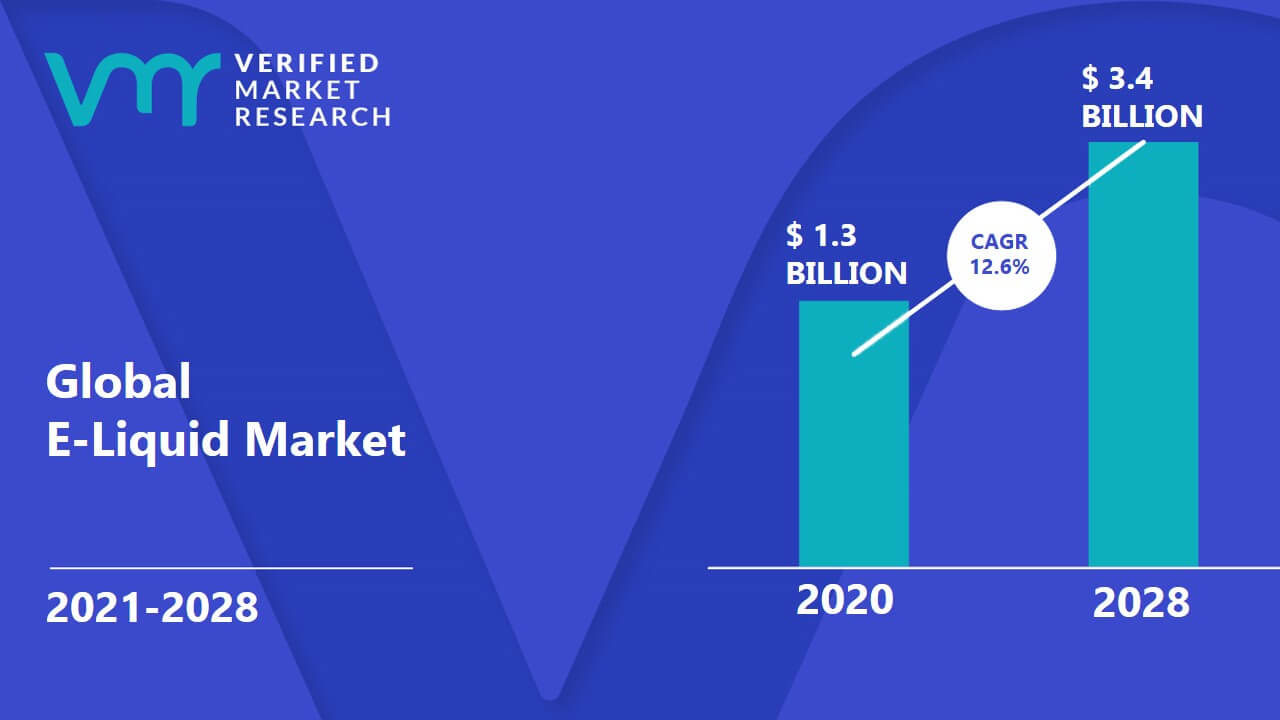 According to Verified Market Research, E-Liquid Market size was valued at USD 1.3 Billion in 2020 and is projected to reach USD 3.4 Billion by 2028, growing at a CAGR of 12.6% from 2021 to 2028.
Verified Market Research recently published a report, "E-Liquid Market" By Type (Bottled, Pre-Filled), By Distribution Channel (Retail Stores, Online), By Flavors (Fruit and Nuts, Tobacco, Dessert), and By Geography.
E-liquid, also called e-juice or vape juice, is the liquid mixture of nicotine, base liquid, and flavoring agent which is used in e-cigarettes and heated to smoke. Using e-liquid does not produce smoke, and hence, also stops secondhand smoking. The nicotine is taken out from tobacco leaves and is better as compared to traditional tobacco. The increasing popularity of e-liquids among millennials and rising health concerns among the long-lived population are other factors driving the market growth. However, worries among smokers regarding the presence of toxicants in e-liquids are projected to be a factor restraining market growth over the upcoming period.
Accordingly, market players are investing mostly in the research and development of good and safer e-liquids. Furthermore, the market leaders are mostly utilizing social media platforms to spread the latest trends and flavors, implement alteration promotional plans & strategies, and increase their consumer base. The rising popularity of personal vaporizers and box mods is expected to stimulate the demand for e-liquid across the planet. The E-liquid segment is anticipated to appear as the widely-growing segment. The tobacco-free composition of e-liquids and the availability of various flavors such as fruits & nuts, blueberry, and menthol along with a range of chocolate, make these products more acceptable. This is expected to drive the segment growth.
The online platform segment is expected to register a significant CAGR over the forecast period. The more use of social media applications such as Instagram, Facebook, and WhatsApp to promote and sell vape devices is anticipated to drive the growth of the online distribution channel. Market players are launching several e-liquid flavors in the market to fulfill to the evolving preferences of people, thereby stimulating market growth.
Global E-Liquid Market Segmentation Analysis
The Global E-Liquid Market is segmented on the basis of Type, Distribution Channel, Flavors, And Geography.
Basis
Segmentation
Analysis
Type
Global E-Liquid Market is segmented into Bottled and Pre-Filled on the basis of Type. The Bottled segment holds a big share in the market than pre-filled. Bottled segments allow the people to make their own choice of e-juice by mixing any flavoured e-liquid. Pre-Filled are non-refillable and already mixed with e-liquids so people buy according to their preferences.
Distribution Channel
Global E-Liquid Market is segmented into Retail Store and Online on the basis of Distribution Channel. Retail stores are the big market for E-Liquids. Every user can buy from their nearest retail store. In today's modern world, there is special retail shop is present in the markets which are open for 24×7 only of E-liquids products. The online segment is a compromise in the e-liquid market because user demand increasing day by day and they want the product at that point of time when they demand but online delivery takes time of 1-2 days to deliver the product.
Flavors

Fruit and Nuts
Tobacco
Deserts
Chocolate
Menthol
Others

Global E-Liquid Market is segmented into Fruit, Tobacco, Dessert, Chocolate, Menthol and others on the basis of Flavors. In the market there are different flavors are present. People can choose according to their preferences. Various flavours used in e-liquid relate to a better refreshment and mouthfeel. Tobacco flavored are always in demand because it gives a cleaner smell. Fruits flavoured are very sweet in taste and give a fresh fruit smell.
Geography

North America
Europe
Asia Pacific
Rest of the world

On the basis of Regional Analysis, The Global E-Liquid Market is classified into North America, Europe, Asia Pacific, and Rest of the world. The North American market accounts for the largest revenue share in the global E-Liquid Market, owing to the presence of a large number of key market players in the region. The Asia Pacific market is expected to register a higher revenue growth rate than other regional markets over the forecast period, due to the rising disposable income of individuals in the region.